<a name="chapter30">table of contents:</a>
<a name="chapter31">Introduction:</a>
Johnsmith's Gravity of Grace #1, Cary Cooper's Yellow #4, and The Dreamsicles Luv Songs for Grown-Ups #5 on the Folk DJ chart. Remembering Rachel raised $50,000 for the Bissex college fund!
If you've heard the latest from
Johnsmith, Cary Cooper, Kate Graves, The Sherpas, and The Dreamsicles; or the spectacular tribute to Rachel Bissex then you've heard what Tom Prasada-Rao can do in the studio. The WILDWOOD TOFU BAR is in Dallas, TX. A 19' by 19' space, set up perfectly for singer-songwriters. Below is a complete list of TPR's clients over the years. You are invited to take the audio tours under the
songs
tab. TPR offers start to finish arranging/engineering/mixing for recording budgets between $1,500 to $4,500 for full length CDs - all inclusive of every aspect of producing a disc, enhancing what you do best with guitar, bass, piano, keyboards, violin, mandolin, string sections, percussion, loops, and harmonies ... or sometimes just knowing when not to play.
Please don't hesitate to get in touch if you'd like to discuss your next project.
More details below the list of clients.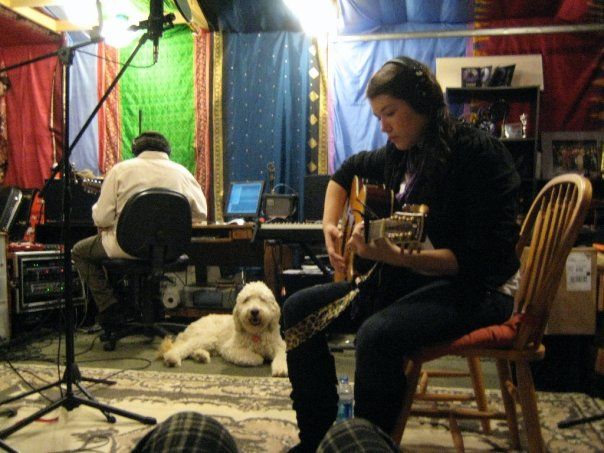 TPR with Sarah Jane and Thurmon the studio dog - Suzanne Madrid
<a name="chapter32">CD's Produced by Tom Prasada-Rao</a>
In progress:
Emily Dunbar
,
Robin Hackett
,
Christopher Smith
,
Bill Nash
,
Chris and Steve Sealy
,
Kathy Moser
,
TR Ritchie
,
Nancy Jephcote
,
Cindy Novelo
Completed Projects:
Gravity of Grace
Johnsmith
'09 Dirty Little Secret
Cary Cooper
'09 Day Will Come
Neal Katz
'09 Songs for Sad People
Kate Graves
'09 Christmas Gift
Cheryl Branz
'08 Chantdance
Bliss Wood
'08 Ample Patience
Barbara Garriel
'08 My Sacred Heart
Erik Balkey
'08 Family Album
Erik Balkey
'08 Dreamers, Lovers, and Outlaws
Michael Bowers and Siobhan Quinn
'07 Deadpan Alley
Erik Balkey
'07 Butterfly
Lauren Lapointe
'07 Yellow
Cary Cooper
'06 Remembering Rachel
Various Artists
'05 Winds of the World
Annie Wenz
'05 Luv Songs for Grown Ups,
The Dreamsicles
'05 In White Light
Rachel Bissex
'04 Here Now
Kristin DeWitt
'04 Reluctant Believer
Michael Bowers
'04 Honor Among Thieves,
The Sherpas
'03 The Dreamsicles,
The Dreamsicles
'03 Gypsy Train
Cary Cooper
'02 I'll Know You
Carey Creed
'02 Poet's Dance
Annie Wenz
'01 Out of the Blue,
Tom Prasada-Rao
''00 Christmas in the Ashram,
Tom Prasada-Rao
'98 Hear You Laughing,
Tom Prasada-Rao
'97 Falling Ashes Ranjith '96. The Way of the World,
Tom Prasada-Rao
'94 Incoming
Tom Prasada-Rao
'92 Produced by the late Mark Heard Home and Heart Christmas Various Artists '89 Lord of All The Prasada-Rao Family '86
back to top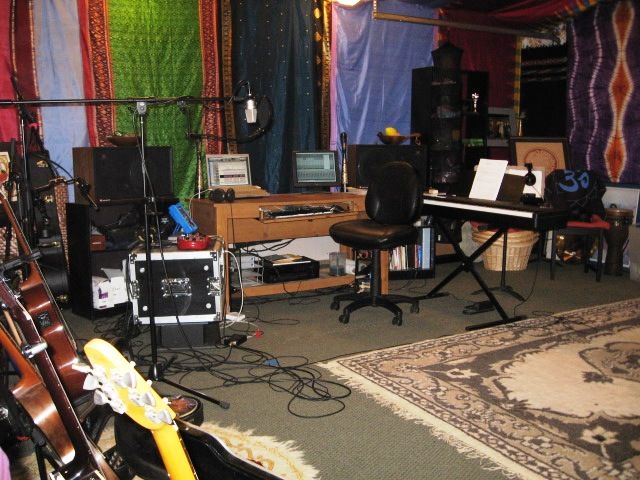 The Wildwood Tofu Bar - Larry Rumford
<a name="chapter33">Details:</a>
Think of your song as a movie, with each new verse and chorus as a scene. How do you make each scene sound different? For more produced albums it's easy – we can emphasize different instruments from verse 1 to verse 2, etc ... for sparse recordings it's more difficult – using phrasing, intensity, and dynamics. Regardless, we'll look to find the sonic space where the lyrics are understandable with a nice bed of support underneath. GEAR: I use Pro-Tools LE software on a Mac Waves, Auto Tune, & Digi plug ins Digi 002 audio interface Focusrite, Aphex, & Presonus mic preamps Neumann, AKG, Shure, EV, Shiney Box & Rode mics JBL monitors, Audio Technica headphones Sample rates up to 96K / 24 bit .WAV or .AIFF files RATES: I don't normally have an hourly rate, rather, I charge by the session - $225 per session. A session can go between 4 to 6 hours – this helps in not having to watch the clock as much as you do paying by the hour. We can do up to 2 sessions per day with a break. It's a lot of money, I know. (But by comparison, scale in Dallas for session musicians alone is $70/hr, which I got recently working on a great new album by Robin Hackett) Depending on your prior recording experience, you might need 2 to 4 sessions for a solo voice and instrument album. It might take 10 to 15 sessions for a more produced album such as Erik Balkeys' Sacred Heart, or over 20 sessions for an album like Cary Coopers' Yellow, which reached number 4 on the folk charts in 2005. This rate includes any parts I play and harmonies from Cary, and includes arranging and/or editing of songs. The only other recording expense you may have is paying session musicians other than us (plus your travel and lodging expenses). Most of the projects I've produced have come in between $1,500 and $3,500 for recording. Given adequate preparation, it's my feeling that CDs with good songs don't need to cost much more - and given the state of CD sales these days - they shouldn't cost much more. THE PROCESS: From Home- Step 1) send me a CD of songs you're considering Step 2) pick songs, tempos, and keys, and talk arrangements Step 3) Practice your instrument to a metronome without singing Step 4) Practice singing to a recording of your instrument Come To Texas- Step 5) start recording your instrument to a click or a loop Step 6) Do scratch vocals (as a guide, not vocals we'll keep) Step 7) Add other instruments Step 8) Record vocals Step 9) Mix Is this your first real studio project? Consider doing a 5 or 6 song EP instead of a full length CD QUESTIONS?? For scheduling/business questions contact Cary Cary at Cary Cooper. For production questions contact Tom TomPrasadaRao at Yahoo. tell a friend back to top
A handful of instruments - Larry Rumford