BIO
cliff notes
details
favorite moments
a list of things
discography
BEAUTIFUL YOU - TPR
Consider the lilies of the field / How they neither sow nor reap Still God's beauty is revealed / He watches over them in their sleep Then will He not do so for you / Oh my little orphan child When your long dark night is through / You will see the morning smile Look up, have faith / Your dreams await / You beautiful you Everybody knows the truth / You were such a reckless fool You spent your brilliant youth / Chasing your rainbows - (your shadows too) But don't think you lost your way / Cause you're standing at the door Tomorrow is today / You are the one you've been waiting for Look up, have faith / Your dreams await / You beautiful you Before you were born / God already knew you / He knew you So ask and you'll receive / Seek and you will find It's not easy to believe / That the water had turned to wine Look up, have faith / Your dreams await / You beautiful you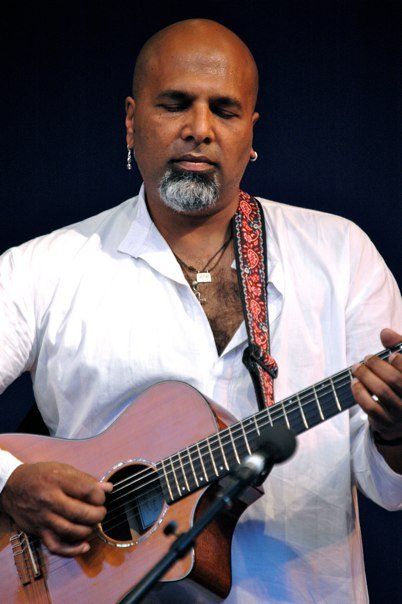 TPR at Kerrville 2009 - Betty Friedrichsen
__________________________________________________
<a name="chapter21">a short biography</a>
A virtual world music ensemble rolled into one guy. His voice weaves incantations, and the guitar is a magic wand in the hands of this extraordinary musician.
—The Takoma Park Folk Festival
Visually and musically, Tom is the most compelling presence to emerge in the singer-songwriter genre as I've seen in a long time.

—Jim Bessman,

Billboard

HE'S BAACK!

Tom Prasada-Rao

is a musician's musician - an unassuming presence on the folk scene since the early nineties. His voice belies his musicianship and his extraordinary songs. From

Rishi's Garden

with it's homage to Ravi Shankar to the groove of

Sleeping Beauty

, Tom's music is melodic, ambitious, and reverent. He's starting to tour again after being featured last year on the nationally syndicated TV show

Troubadour Texas.

In the fall of 2007 Tom quit the road to produce records, raise two stepdaughters, and walk a rather large Golden Doodle named Thurman twice a day. In addition to producing, he took a job teaching music at White Rock Montessori in Dallas - TPR was formerly the songwriting teacher at The University of Virginia's

Young Writer's Workshops

- where he created the songwriting curriculum and taught for eight years.

From headlining major festivals 15 years ago, to the relative obscurity of a recording studio - Tom continued to mature as an artist. That work blossomed into an impressive resume of producing credits as well as cuts (his songs covered by other artists). This year (2014) marks Tom's departure from his adopted life and his return to the road. His new release "ADAGIO" - features bass guitar legend

Chuck Rainey

, and piano virtuoso

Julie Bonk

who was Norah Jones teacher - all masterfully produced by Jagoda.

.

Tom Prasada-Rao was born in Ethiopia of Indian parents and raised in Washington DC. He is no longer married the fabulous singer-songwriter

Cary Cooper

but wishes her well. He's a vagabond again - currently house sitting in Austin, soon to return to the east coast.

The most moving, pointed and memorable songs reflect Prasada-Rao's indebtedness to Bruce Cockburn, Bob Dylan, and Richard Thompson, and other singer songwriters who have something to say, and a distinctive way of saying it.

—Mike Joyce,

The Washington Post

Prasada-Rao gives his folk songs an R&B flavor. George Benson, Grover Washington Jr, Marvin Gaye and a number of other Motown greats come to mind when listening to Hear You Laughing.

—Charlene J. Arsenault,

The Boston Globe

Tom Prasada-Rao is a rare and brilliant performer. His fine voice and thrilling guitar work hold you spellbound while he heals your heart.

—David Wilcox, Singer-Songwriter

Tom Prasada-Rao is as far from boring folk music as you can get and still be holding an acoustic guitar.
<a name="chapter22"><DIV ALIGN=LEFT>Cliff Notes<DIV></a>
Occupation
: Producer, Teacher, Singer-songwriter
Born
: in Ethiopia of Indian parents
Educated
: in Maryland, England, and India
Albums
: 5 Solo CDs, 2 Group CDs, over 25,000 copies sold
Produced
:
Johnsmith
,
Cary Cooper
,
Rachel Bissex
Teaching
: University of Virginia's
Young Writer's Workshops
, White Rock Montessori,
Lambs' Retreat
,
Summer Songs
Awards
: Kerrville New Folk Winner, Falcon Ridge Most Wanted, WAMA Songwriter of the Year, Kerrville Indie Album of the Year
Home
: Anywhere/Everywhere (formerly Takoma Park, MD)
Sign
: Aries
Religion
: Rumi
back to top
<a name="chapter23"><DIV ALIGN=LEFT>details</DIV></a>
—AWARDS
Kerrville Folk Festival New Folk Winner '93 Falcon Ridge Top 3 Most Wanted '98 WAMMIES - Washington Area Music Awards: WAMA Best Male Vocalist '93 - '03 (10 years in a row) WAMA Songwriter of the Year '97 WAMA Song of the Year '97 Indie Album of the Year - The Kerrville Music Awards '98 Mid Atlantic Song Contest - 1st place Jazz and Folk '95
—PRODUCED
Johnsmith's Gravity of Grace #1, Cary Cooper's Yellow #4, and The Dreamsicles Luv Songs for Grown-Ups #5 on the Folk DJ chart. Remembering Rachel raised $50,000 for the Bissex college fund!

In Progress Emily Dunbar, Robin Hackett, Christopher Smith, Bill Nash, Chris and Steve Sealy, Kathy Moser, TR Ritchie, Nancy Jephcote, Cindy Novelo Completed Johnsmith, Cary Cooper, Neal Katz, Kate Graves, Cheryl Branz, Bliss Wood, Barbara Garriel , Erik Balkey, Michael Bowers and Siobhan Quinn , Lauren Lapointe , Rachel Bissex Tribute Album Annie Wenz , The Dreamsicles, Rachel Bissex , Kristin DeWitt , Michael Bowers , The Sherpas, Carey Creed
— TEACHING / SONG SCHOOLS
Rocky Mountain Folks Festival Song School, Kerrville Folk Festival Song School, University of Virginia Young Writers Workshops, Summer Songs East, Summer Songs West, Lamb's Retreat, Guitar Clinics for Breedlove Guitars, White Rock Montessori, Dallas TX, Boys and Girls Club Music Camp, Kerrville TX
— PERFORMED WITH
Janis Ian, Peter Yarrow, Michael Hedges, Ani Difranco, Odetta, David Wilcox, Ritchie Havens
—RECORDED WITH
Ed King of Lynyrd Skynyrd, Mark Heard, Eva Cassidy, Chris Biondo
—SELECT PERFORMANCES
Festivals: Ottowa, Rocky Mountain, Philadelphia, Kerrville, SXSW, Falcon Ridge, Wildflower, Woody Guthrie, South Florida, Boston, New Song Performance Halls: The Rock and Roll Hall of Fame, The Kennedy Center Clubs: The Birchmere, The Bottom Line, The Iron Horse, The Ram's Head, The Freight and Salvage, The Main Street Cafe, Six Strings (Raleigh, NC) Coffeehouses: Uncle Calvin's, Cafe Lena, Swallow Hill, JamminJava, Godfrey Daniels Concert Series: The Listening Room, The Evening Star, Six Strings (Columbus, OH) House Concerts: Fox Run, The Panzers, Rouse House, Flowers in the Desert
back to top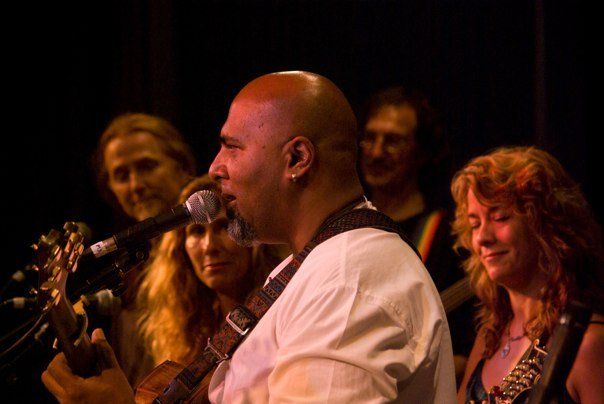 with Pat Wichtor, Annie Wenz, Freebo & Karen Mal - Neale Eckstein
<a name="chapter24"><DIV ALIGN=LEFT>favorite moments<DIV></a>
WHILE TEACHING Song School at the Rocky Mountain Folks Fest I was asked to do a seminar with Janis Ian. I said to Merlin David (my manager at the time):
No way man, it's Janis Ian, are you freakin kidding me!
But he finally convinced me and reluctantly I climbed up the steps to the stage. First off Janis talked for a while about her career, and then she sang
Seventeen
. SEVENTEEN! As soon as she got done, she said over the mic quite matter of factly:
Tom, why don't you play one?
---------- THE FIRST TIME I played in Chattanooga, I didn't know a soul and it was cold, dark, and raining. I did my sound check, then several hours later took the stage, surveying the audience during my first set. I saw a woman with a beatific smile, one that I should have I recognized. During the break she came up to me and pinned a silver angel on my kurta (those long Indian shirts). She didn't say a word. Too embarassed to ask, I found out later she was Odetta. ---------- I HAD THE GREAT HONOR to have one of my idols produce my first album -- the late and legendary Mark Heard. I couldn't have had a better mentor or a more sarcastic teacher. He told me stuff I really didn't want to hear, like after finishing all the mixes for Incoming I said
Whew! We're all done
and he said
Yeah, now the hard part begins.
It was Mark who taught me how important it was to try to sing like I meant it -- one time stopping the two inch tape in the middle of
Driftwood
saying:
Dammit Tom, don't make me put strings on this song!
---------- FOR SEVERAL YEARS on Christmas Eve I would go to the CCNV 2nd and D shelter to play Christmas carols. One Christmas Eve I was playing when it felt like most of the residents became distracted. Then bouncing up the stairs came Jesse Jackson and everyone went wild. He sang along for a while, then took center stage with a speech/exhortation that left me in tears. I for one am a believer. There's not another politician I know of that would go to a shelter during the holidays when he wasn't trolling for votes. He has my admiration and gratitude. ---------- I ALWAYS COMPLAINED to my folks that I was born 10 years too late, missing out on all that peace and love of the 60's. One day after recording my first album I got a call from Carol Fenelly asking if I was familiar with the music of Don McLean, and if I would be willing to play
Vincent
at the memorial service for the activist Mitch Snyder. I was humbled and flattered and I quickly called in to work to take the following day off (I was still doing my old courier job). When I got to the church I found out that I'd be sharing the podium with Dick Gregory & Philip Berrigan. Oh my god! My parents were officially off the hook. When Dick Gregory got done, everyone jumped to their feet ready to change the world. And as they carried Mitch Snyder's ashes down the middle aisle into the blinding sunlight of North Capitol street, I got the idea for
Ashes of Love
with which I was fortunate enough to win the Kerrville New Folk Competition several years later. ---------- OURS IS A FAMILY THAT COOKS like chefs and eats really,
really
well. I remember with great fondness waking up on Saturday mornings to the smell of Dad cooking in the kitchen, and even now my mouth waters at the thought of my Mum's curry. She learned her lessons well from her own mother. One day I was cooking curry at my old house in Takoma Park (MD) when Mum and Dad and Gramma (bless her soul) walked in. Gramma, much to my chagrin, asked for a taste. She put the spoon to her mouth, and said something in
TELUGU
to Mum, and then she started laughing. Gramma was never one to explain herself, and Mum never would tell me what she said. ---------- My FAMILY MADE A PILGRIMAGE back to India in 2003 to celebrate my Grandfather's 96th birthday. He could outwalk most of his grandchildren -- several times a week walking up to 20 miles in one day. [He passed away in the spring of 2009 at 102 years old] The day after his birthday celebration Gramp said he was going for a walk from his village to the village Gramma was born in 6 or 7 miles away. All of us grandchildren who made the trip decided to tag along. We walked down the streets of Mandipaka at a very leisurly pace, and Gramp was stopped at almost every turn by people who wanted to shake his hand, and invite him into their homes. To those of us who are his family it felt like Jesus entering Jerusalem or Mandela finally being set free. At the other side of the village facing several miles of incandescent rice paddies and waving coconut palms, Gramp stopped and turned to us saying:
I want to tell you something...
I want to tell you how much the world has changed. When I was a child, I wouldn't have been allowed to even walk on these streets. These people are Brahmins -- the highest caste, and I was an untouchable, the lowest. If they had touched me they would have to undertake purification rites, and now you see how they invite me inside and put their hands on my shoulder.
-- As if to say, there are a lot of things wrong with the world ... but sometimes all you can do is outsmile them, outwalk them, or outlive them. We completed the journey to Gramma's village, and soon it came time to go back to Mandipaka. Gramp said:
This time we go at my pace.
It wasn't long before I was out of breath.
back to top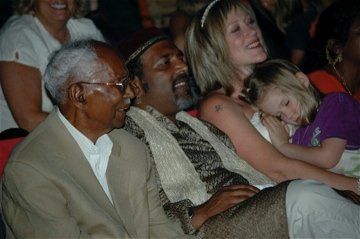 with Gramps, Cary, & Hannah at our reception, Threadgill Theater, Kerrville